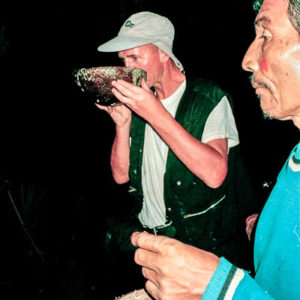 C. Cornell Evers
was redacteur bij het Nederlandse popmuziektijdschrift OOR. Naast OOR publiceerde hij in bladen en kranten als Jazz Nu, Nieuwe Revu, Groene Amsterdammer, Volkskrant, HP De Tijd, Arts & Auto, Hervormd Nederland, Esquire en Residence.
Hij verruilde zijn redactiestoel bij OOR midden jaren 90 voor een hangmat in de Amazone. In Manaus, hoofdstad van de Braziliaanse deelstaat Amazonas, werkte hij samen met lokale musici, kunstenaars, dichters en fotografen.
Als CC Ryder keert C. Cornell Evers zijn archief met verhalen over muziek, poëzie en kunst om.

C. Cornell Evers
swapped the editorship of the Dutch music magazine OOR for a hammock in the Amazon in the 1990s.
Privacy
Green Ark Press & Productions respects the privacy of website visitors and does not place cookies. Also, no information is collected through Google Analytics and the like.
Posts on the website may contain embedded content, such as videos and audio files. Embedded content from other websites is subject to the privacy terms and conditions of those websites.
Contact
The websites do not contain contact forms. To contact C. Cornell Evers you can start a chat through the Green Ark Press & Productions Instagram account.
Donations – Show your appreciation!
Enjoy the free content on Green Ark Press & Production's websites and support the author by making a donation. Your contribution helps to ensure the continued availability of independent journalism.
With iDEAL you can support Green Ark Press & Productions through the secure environment of your own bank. Donations are processed by payment provider Mollie.
Mollie is supervised by the relevant national authorities as a regulated payment institution according to local laws and regulations. For Mollie's privacy statement, visit https://www.mollie.com/nl/privacy
Green Ark Press & Productions is registered with the Dutch Chamber of Commerce, K.v.K. number 34205708 0000